Ford Motors está transformando la estación central de Michigan, vacante hace mucho tiempo, como parte del resurgimiento general de la ciudad.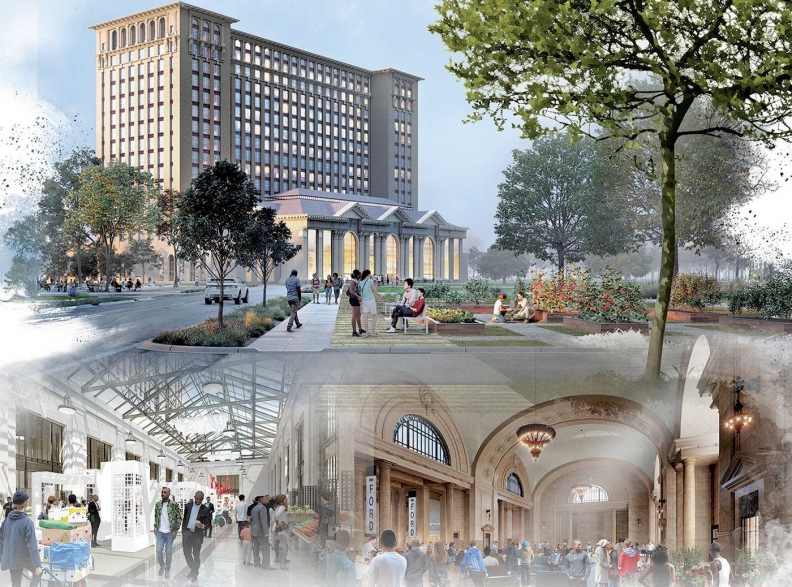 21/01/2020
DETROIT — Detroit's former main train station, designed in the Beaux-Arts style by the same architects who created Grand Central Terminal in New York, has tall columns and vaulted ceilings that hint at its past glory.
Yet much of the station is now crumbling, covered in rainbow graffiti and weathered by decades of rain and snow that seeped in through the deteriorating roof.
"Michigan Central Station has long been a symbol of Detroit's vibrancy, and then it became an international symbol of decline," said Detroit's mayor, Mike Duggan.
Now the long-vacant station is getting a new life, thanks to the Ford Motor Company, which will transform the depot as well as an adjacent book depository, brass factory and hosiery factory into a 1.2 million-square-foot transportation innovation district.
The new development will house Ford's autonomous vehicle division, among other units. The automaker also plans to lease space to companies working on mobility and transportation projects, such as smart vehicles, infrastructure and parking.
The innovation hub will also have shops, restaurants, art and performance spaces as well as a boutique hotel on the top floors of the 15-story tower rising above the station.
Ford's transformation of Michigan Central Station is part of the bigger resurgence of Detroit, a story mirrored in cities, like Pittsburgh and Cleveland, that are trying to reinvent themselves to attract new jobs and residents. These Rust Belt cities, formerly known for their steel production, have struggled since the 1950s as jobs disappeared and residents left en masse.
Many of these turnarounds start in city cores, and transformation is indeed most evident in Detroit's downtown, too. In early 2019, the luxury retailer Shinola opened its first hotel there, a 129-room boutique resort that has the feel of a private London club with fireplaces and reading nooks.
The hotel's walls have a palette of cream, camel and "Shinola blue," a shade of navy blue that was derived from a fleck of paint found in a former Singer sewing machine factory, one of the five downtown buildings Shinola occupies.
Behind the hotel is a cobblestone alley lined with shops run by local female entrepreneurs, a beer hall and a Detroit-style fried chicken joint. This multiuse development was a joint project between Shinola and the real estate firm Bedrock, founded by the Detroit billionaire Dan Gilbert, whose firm has acquired and developed more than 100 properties in Detroit and Cleveland since 2011.
Across the street from the Shinola Hotel is another Bedrock project, a $1 billion skyscraper being built on the site of the former Hudson's department store that will house a hotel, offices, shops and high-end residences when it opens in 2023.
The transformation of the train station has helped attract other investment throughout Detroit, Mr. Duggan said: "Ford has created momentum for other mega projects."
In February, Fiat Chrysler announced a $4.5 billion investment in five Michigan plants, creating about 6,500 jobs in Michigan. Waymo, the self-driving technology company owned by Alphabet, the parent company of Google, opened its first factory in Detroit in late 2019.
Ford has a long history in Motor City, thanks to its Model T, the first affordable mass-produced automobile, which was made at the company's Piquette Avenue Plant, built in 1904.
Train travel, however, was king in the early 1900s. Michigan Central Station opened in 1913, replacing a station that had burned down. In the station's heyday in the 1940s, more than 4,000 passengers passed through each day.
After World War II, car travel surpassed train travel, and the city faltered over the decades for political and economic reasons, its plight exacerbated by race riots in 1967. The last trains, operated by Amtrak, departed Michigan Central Station in 1988, after which the station closed and fell into disrepair.
The city hit a low point in 2013 when, billions of dollars in debt, it declared bankruptcy, the largest by a municipality in the United States.
In 2018, Ford announced it would acquire Michigan Central Station and several nearby properties, investing $740 million in the project. Ford began by winterizing, drying out and securing the 640,000-square-foot train station. Now, construction workers are repairing the steel structure and replacing damaged terra cotta, limestone and brick that make up the station's exterior.
Ford is also hoping to add co-working spaces and university resources to help foster a start-up culture.
The project is modeled after Kendall Square, the neighborhood in Cambridge, Mass., known for its cluster of technology companies and the Massachusetts Institute of Technology, said Paula Carethers, Detroit development manager at Ford.
"We want to build a collaborative ecosystem of companies, educators, investors and innovators," she said.
The Ford team has studied closely what has worked in other cities. For instance, one section of the train station is elevated and adjacent to former rail lines.
"For this part, we have looked at images from the High Line in New York for inspiration," Ms. Carethers said, referring to the elevated park on the West Side of Manhattan. An elevated skating rink was one idea, she said.
Ford's project is helping revitalize Corktown, Detroit's oldest neighborhood, created by Irish immigrants about one mile west of downtown. But connecting the various pockets of development in Detroit remains a challenge.
"Most people don't realize that Detroit is a very sprawling city," said Thomas Weidenbach, a former adjunct lecturer of American history and political science at the University of Michigan's Dearborn Campus. Mr. Weidenbach's grandparents were born in Detroit at the turn of the 20th century and raised their family here until the 1970s. "The new prosperity is still uneven," he said.

The city's nearly three-year-old streetcar, called the QLine (after Mr. Gilbert's mortgage lending company, Quicken Loans), is a first effort to better connect the downtown with various neighborhoods north of it.
Ensuring the revitalization reaches all residents has been a focus for Mr. Duggan, the mayor. While Detroit's unemployment rate fell from more than 20 percent in 2010 to 3.4 percent in November, it is still higher among African-Americans, who make up nearly 80 percent of the city. Detroit also continues to have one of the highest poverty rates in the country, at 33.4 percent, though that number is down from 39.8 percent in 2015, according to the Census Bureau.
The growing number of visitors and their influx of cash are helping Detroit rebound. Fourteen million visitors came to the area in 2013, according to the Detroit Metro Convention and Visitors Bureau, a number that jumped to 19 million in 2019. Detroit has four major-league sports teams, all of which play in the downtown area. There are several arts venues in the downtown district, such as the Detroit Opera House and the Fox Theater, a performing arts center that opened as a movie theater in 1928.
Aaron K. Foley, who was Detroit's "chief storyteller" from 2017 to 2019, said he was "cautiously optimistic" about the city's progress. His role was created by the mayor as an attempt to diversify the way Detroit was portrayed.
Mr. Foley helped start the Neighborhoods website that showcases local artists, small-business owners, doctors and nonprofit groups. "Our aim is to add the missing parts of Detroit's narrative that the national media misses," he said.
Still, Mr. Foley cautions that gentrification comes with new challenges.
"We have seen what happened in cities like Brooklyn and San Francisco, where longtime residents can no longer afford to live in the cities they call home."
Fuente: New Yor Times
https://www.nytimes.com/2020/01/21/business/detroit-ford-train-station.html?utm_source=email_marketing&utm_admin=36252&utm_medium=email&utm_campaign=Spider_News_the_best_opportunities_in_USA_February